The first new version of Act! in a decade gets introduced next month, and Keystroke is helping develop it!
As part of their Act! 20.1 Service Pack distribution, Swiftpage will be releasing Act! Premium Plus, the first new Act! Product in over a decade, that will include custom table technology developed by Keystroke. This exciting new tier of product, expected out in late February, will instantly lift the sights of Act! users around the world, as Act! will suddenly be infused with new customization and data management capability.
For those unfamiliar with custom tables, they dramatically augment the power of Act! by enabling countless one-to-many relationships inside of each contact, company, group or opportunity. But what does this really mean?
Industry Verticals
In real life terms, custom tables simply support the way you work. Industries like wealth managers, mortgage brokers, and realtors will now be able to properly manage transactional data. Whether this data takes the form of mortgage details, insurance policies, real estate listings, service contracts, or product details, Act! Premium Plus can now handle it more efficiently than ever before. Think of it like adding limitless data forms to a record in Act! with the same ease as a new line in a spreadsheet. And like a spreadsheet, these tables can be configured to do math calculations which will not only save time, but hasten data entry (see below for a sample of List View calculations).

Feature Horizontals
Additionally, features like quoting, project management, and technical support, just to name a few, can also quickly and easily be incorporated into your database without the need for a 3rd party addon. And with Act! Premium Plus, these features will be accessible in both web and Windows to offer further flexibility.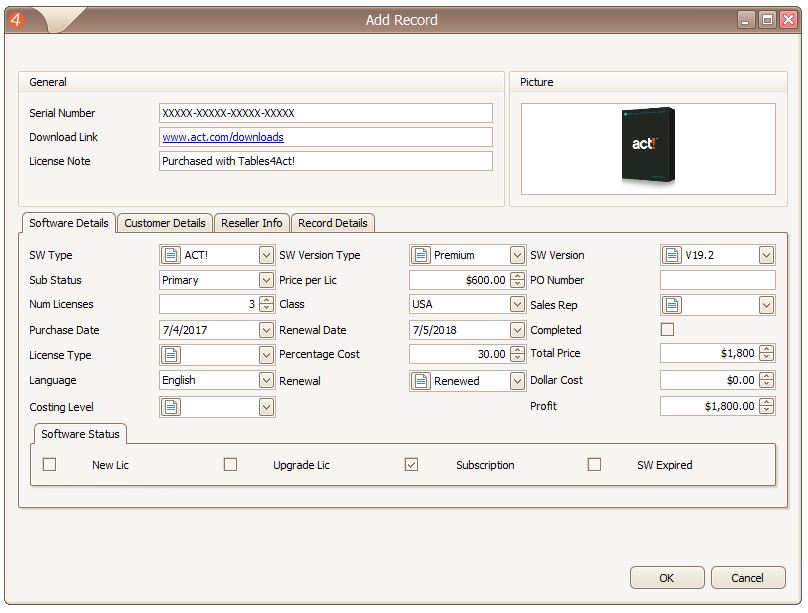 Whether you're using a new database or an existing one, Act! Premium Plus can add powerful "themes" to customize your database within minutes. "Themes" for categories like consulting, projects, insurance, mortgages, product inventory, loan tracking, or even for real estate, are a simple click away, and were designed with insights from industry professionals. Over time, we expect the library of available themes, in both industry verticals & feature horizontals, to increase with the popularity of Act! Premium Plus, making it an indispensable resource for new and old users alike.
Even novice users will be able to import a new theme or feature within minutes, and know they're building their business on the right database foundation from the outset. It's like buying a suit off the rack that magically fits you like a finely tailored garment the first time you put it on.
Grows with you
Unlike a suit, though, your database can grow with you. Whether you start with an imported theme or design one from scratch, Act! Premium Plus supports endless future customization possibilities that can increase in complexity and purpose.  For instance, what starts out as a simple product inventory table in your database may later need to track maintenance history on those products. No problem. With Act! Premium Plus, a user can create a separate table for maintenance, and then "nest" it under the product table to easily record the service history on any product. Try doing that with your old Act!
Better data, better results
With better data organization, comes better automation possibilities, as well.
Imagine being in a professional services sector, and using the tables within Act! Premium Plus to track contracts. The type of contracts doesn't matter (they could be mortgages, insurance policies, maintenance agreements, or warranties), so long as each has a start and an end date. With this type of data, the user can configure a tool like Keystroke's exclusive "Knowtifier", to automate email notices to his customers when their contracts are coming due.
No more missed renewals or lapsed contracts because you were too busy with today's business to take care of tomorrows. Your investment in Act! Premium Plus and the Knowtifier has got you covered.
What's more, the Knowtifier can not only be configured with "set-it-and-forget-it" ease, it can also trigger the scheduling of follow-up activities if the automated emails garner no response.
This simple workflow suddenly makes your data "actionable", operating like a virtual assistant to make you more productive with less effort.
The way a CRM should work.
Feature List
Act! Premium Plus can revolutionize the way you work with your data, and include too many features to list, but the following highlight some of the more powerful features:
Create an unlimited number of functional, manageable "one-to-many" table-format tabs for Contacts, Companies, Groups, and Opportunities in Act!
Custom Tables become part of your database, and therefore fully sync enabled, and upgrade with your database.
Convert a custom table look up to a Contact, Company, Group or Opportunity lookup
Drill down on a custom table list view to access the detail view, and click to sort or filter in the list view.
Allows you to merge to Word or Email from a Custom Table lookup, and export list views to MS Excel.
Search within tables and filter results for superior lookups
View related custom table fields side-by-side in the same view, and create robust queries and apply date ranges.
Perform advanced calculations among fields to automate data entry and reduce occurrences of missing data.
Create activities or histories based on custom-table fields.
Nest Tables within tables to further enhance & extend the capabilities of Act!
To learn more about custom tables, please click HERE.
So what's it cost?
While still unofficial until the date of release, Act! Premium Plus is expected to be priced approximately $10/month/user above the existing Act! subscription price, and will come with instant access to some of the themes discussed above. So if you're currently paying $25/month/user, your cost for Act! Premium Plus will likely be $35/month/user (some exceptions may exist for Loyalty customers). Similarly, Act! Premium Cloud customers paying $35/user/month, can expect to pay around $45/user/month for the Act! Premium Cloud Plus upgrade service.
Like all Act! CRM products, quantity discounts apply.
I'm sure most reading this post will agree that an extra $120 per year is a small price to pay for this kind of database technology, especially when you consider the level of efficiency it can produce. Keystroke has been using custom table technology for years to manage all our Act! Subscription Contracts, Software Licenses, Handheld Contact records, Web & Act! Hosting, as well as our support contracts, and we simply could not survive without it. The cost of the manpower alone to reproduce the efficiency we have in place with custom tables and the Knowtifier, would be prohibitive, and frankly less reliable.
Look for Act! Premium Plus in late February, and start planning today for a more fruitful CRM future with Act! Premium Plus.